Our Bold, No Risk, No Bull, Unmatched 110% Make You Happy Or You Don't Pay, Money Back Guarantee!
"You WILL be 110% HAPPY or You Won't Pay a Penny…I GUARANTEE IT!"  Coby McConnell President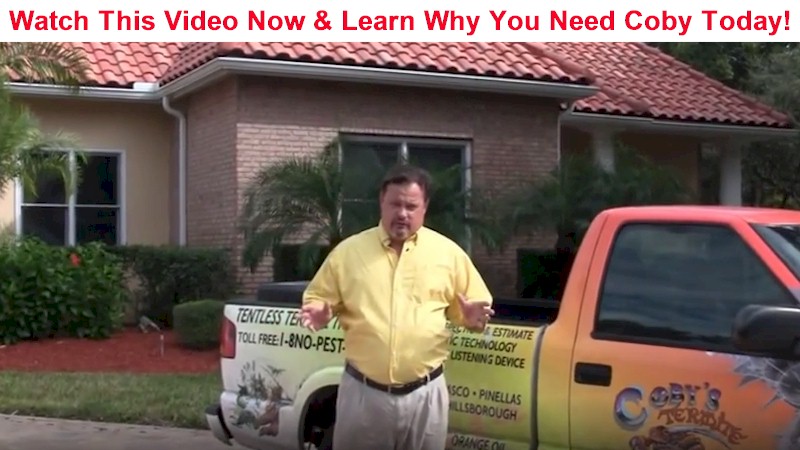 "If you hire us and, at the end of 30 days, you are not 110% HAPPY, we'll come back and retreat your home for FREE…and we'll keep on treating it for FREE until you tell us you're happy. If that still doesn't make you happy, we'll give you back every penny you spent for the initial treatment…PLUS we'll pay YOU and additional $25.00 for your time and trouble!"  (Try finding another pest control company to match that offer!)
Call Today and Schedule Your 
FREE

Estimate and 

FREE

58 Point Pest Analysis of Your Home!
Tap To Call 727-462-0400
TEXT – 727-458-7900
Dear Tampa Bay Area Homeowner,
My name is Coby McConnell. I am the owner/president of Coby's Tentless Termite and Pest Control Company. We're a full service termite and pest control company dedicated to helping folks just like you solve their pest problems and live pest-free lives.
If you're reading this, it's probably because you're having a problem with termites, roaches, ants, bedbugs, rats, mice or some other unwanted pest and you're trying to decide who to hire to take care of the problem for you.
If you're like most people, your home is the most valuable possession you have. You certainly want to protect it from infestation and damage from unwanted pests.
You want to deal with a company you can TRUST to do the job right.
You want someone who will get rid of the pest problem FAST and FOREVER.
You only want to pay a FAIR PRICE and not a penny more.
You want a GREAT GUARANTEE.
And you want to know that, if you ever have a question, problem or concern … we are only one phone call away, 7 days a week, 24 hrs./day…even if we're on vacation!
If you answered YES to any of the above, please keep reading because you have come to the right place.
Listen, I know trying to choose a pest control company can be confusing. I understand that. All we ask is that you give us a call and let us answer your questions. We just want a chance to EARN your business.
Bottom line: I want to be YOUR BUGMAN!
Thank you for reading this message…and I hope to hear from you soon,
Coby McConnell – President
Coby's Tentless Termite & Pest Control
PS.  And remember…As long as GOD keeps makin'em, we keep killin'em!
Call, Text or Email NOW and Let Us Help YOU Solve Your Pest Problem!
OFFICE – 727-462-0400
TEXT – 727-458-7900
Here's what others are saying about us:
"If your looking for the best in Termite Control, stop right here and look no further folks!   Coby and his Team are honest, caring, knowledgeable, courteous and offer the very best in Service, Warranty and Results.  The Termite Terminator!   Forget the rest, and stay with the Best, Coby's Tentless Termite & Pest Control." Karen Ford
"Great job at a great price! We noticed some termite signs in our home and called Coby. He showed up right on time and gave us an estimate of the cost of the work to be done. He gave the rest of the home a very thorough inspection and came back a few days later and took care of our termite problem. We couldn't be happier!" Al Leffler
"Coby is the absolute best! He treats my home four (4) times a year, and it is rare to never that I have to ask him to come back and treat my home again. Our home backs up to a conservation area. We have spiders and palmetto bugs and ants galore –you name it. It was overwhelming! We called on Coby about three (3) years ago and haven't had a problem since. The treatments are pet and child friendly. I highly recommend Coby's Tentless Termite and Pest Control." Sherrilyn McCoy Pecorella
"I would only use Coby's again, and will always refer him. He literally saved me when I moved into a bug infested rental home. He took care of the inside of the home, then when needed took care of the lawn so my kids would stop getting eaten alive by ants, and the dogs by fleas. Coby is always prompt and courteous, and willing to accommodate any emergency situation. If you need help with bugs, look no further. Fran, at his office, is also great!" Shellie Sager
"Coby's was so quick to help me and my family! Everyone we dealt with was so pleasant and so eager to help. After the first service we haven't had an issue since! I swear by this company. Thanks Coby's Pest Control!" Diane C.
"Great customer service and they came out quickly to help me with my problem!" Chelsea Bayer
"I had always thought I was paying way too much just for termite monitoring, so I called Coby's to come out to give me an estimate. Andy was awesome and came out immediately to do the inspection. They gave me a price that is saving me ton of money compared to the other place I was using. They are provided termite control and outside pest control. They provide friendly service and the staff is full of knowledge. Thank you Coby's, you have a customer for life!" Sharon Liss
"We have been dealing with Coby's Termite for more than 5 years. We found Mr Coby honest, reliable and knowledgeable in his field. You can count on him and he is always available to respond any time we need him."Griess, Belleair
"From the initial phone call for information, to the consult and actual treatment of the house, everyone at Coby's has been nothing short of amazing. Top notch customer service from the owner, not a contractor, is so hard to find. I did not have to move out, there was no nasty odors and an automatic guarantee for retreating if termites come back! I would (and have) recommended Coby without hesitation!" Jennifer Jordan
"Coby did a walk-through of the house & determined that there wasn't a termite issue & that it might be ants.  He tested an area that I was concerned about and explained what it might be, possibly ants.  After he sprayed there were no ants & I just checked again (hour after he left), no ants.   
I appreciate the honesty and will probably hire him to do my quarterly pest control as my current provider wasn't very good and gave me 1/2 day notice of my next appointment or just showed up." Cheryl Kupan
 "He is inspecting our condo's units upon request and has been prompt and honest in his assessment. Our Condominium Association, after spending thousands of dollars in tenting one of our group of three connected units (with another provider) interviewed five other termite businesses due to concern that we could have additional infestations.    It was a board decision to select Coby's Tentless Termite and Pest Control after those interviews and one we have been very satisfied with.   He has worked with three units and been very honest in stating that others he was asked to check had no problems.   I would certainly recommend him to anyone concerned with a termite or pest problem". Donna Ryder
"I used #1 Coby's Tentless Termite & Pest Control for pest control/exterminating services. He is infecting them as they go and we will be doing more. For the house he did was absolutely wonderful. He was very down to earth, honest, told us what he could and could not do. I was favorably impressed because he did not try to impress us with the multitudes of trucks and people, was a small company but would give us unlimited references, and was one of the boards. He was on time, very efficient, and left no mess. He was not the least expensive but very close on the lowest price." Donna Ryder
 "Coby came to inspect the house the day after I called inquiring about the treatment. We scheduled the treatment for two weeks later. Coby & his colleague showed up on time, were very efficient & professional. My only complaint is that they missed patching a few of the holes they drilled, but on the whole I'm very pleased with my experience".  Lora Clements
"They were very thorough and took time to answer all my questions. They cleaned up after themselves and even touched up the paint. I am going to have him come and do my ongoing pest prevention. Very accessible, arrived ON time and there were no hidden surprises. I highly recommend him." Virginia Kale
 "COBYWAS VERY HONEST AND SINCERE. HE CAME IN AND TOOK GREAT CARE WHILE WORKING IN MY HOME. HE FILLED ALL OF THE AREAS THEY HAD TO DRILL AND WERE VERY PLEASANT TO WORK WITH. VERY PROFESSIONAL. THE OWNER PERFORMED MY SERVICE AND HE WAS GREAT." JOANNE BONIE